Celekt
Shop No 2, APHB Commercial Complex

Kukatpally

Hyderabad

-

500072

Opposite Shivaparvathi Theater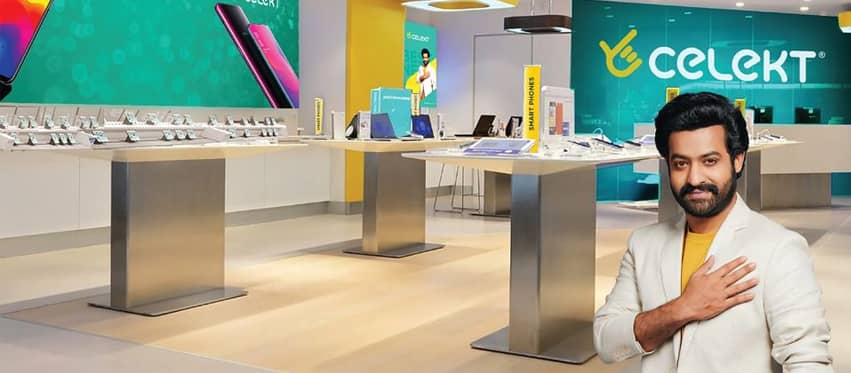 About Celekt
Celekt is a prominent brand with a robust network of 65 + stores in Andhra, Telangana, Maharashtra which has started with a mere three-store retail chain that began its services in Tirupati, Andhra Pradesh in 2018.

Today, A Celekt gadget LLP is a single-window facility for major national and international brands including Apple Inc., Samsung, Xiaomi, Vivo (Technology Company), Oppo, Sony, LG Corporation, and other major brands. The retail chain has included Smart TVs, mobile accessories, audio devices, and other telecommunication services.

The celekt offers a huge variety of national and international products to give way to your specific requirements. The executives at our stores are well versed with the vast inventory of products. Our offline and online stores are supported by a strong network of inventory and supply chain networks.

Celekt as a brand operates on the prime values of exceeding customer's expectations, absolutely safe and thriving working spaces for the employees and associates.

Celekt has established a state-of-art training facility to regularly educate our workforce about the latest mobile gadgets that are introduced regularly. Our technical staff and support must undergo the training program designed to keep them abreast with the latest technological advancements in mobile networks.

Our online network has 90-minute delivery support after placing the order. The delivery network is lead by a trained team of delivery executives who share our motto that customer satisfaction is of top priority

Walk into our stores to be greeted by the well-informed hospitable staff with a detailed catalog of products and gadgets. The service team is obligated to meet the stipulated deadlines as promised. The same commitment extends to the warranty and guarantee of the products. Expect celekt to deliver the high-quality service and information about the mobile phones and electronic gadgets.
The address of this store is Shop No 2, APHB Commercial Complex, Opposite Shivaparvathi Theater, Kukatpally, Hyderabad, Telangana - 500072.
Mon

10:00 AM - 10:00 PM

Tue

10:00 AM - 10:00 PM

Wed

10:00 AM - 10:00 PM

Thu

10:00 AM - 10:00 PM
Fri

10:00 AM - 10:00 PM

Sat

10:00 AM - 10:00 PM

Sun

10:00 AM - 10:00 PM
Amazon Pay

Bajaj Finance

Credit Card

Debit Card

EMI

Google Pay

HDB Finance

IDFC Capital Fast

PayTM

PhonePe

ScanPay

TVS Credit

ZestMoney
Mobile Phone Shop
Mobile Phone Accessory Shop
celekt mobile shop near me
mobile shop near me
phone stores near me
cell phone store near me
mobile store near me
mobile phones near me
mobile showroom near me
best mobile shop near me
cell phones for sale near me
mobile store open near me
mobile shop near me open now
oppo store near me
apple store near me
realme store near me
oneplus store near me
mobile repair shop near me
realme showroom near me